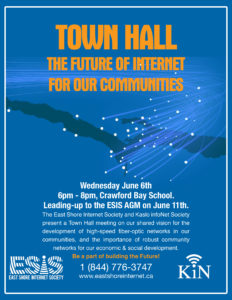 Snowbirds have returned to their East shore nests and seasonal businesses are open! Things are also getting busy at ESIS. Our new unlimited data service is HOT with more and more household subscribers choosing no data limits.
With the recent overloads on Kootenay Lake ferry service, our Ferry Cam has proven to be an invaluable tool to help make decisions around ferry travel. ESIS is happy to provide and maintain this useful service, and provide a view on our website at: http://www.eastshoreinternet.ca/ferry-cam-kootenay-bay/
ESIS is hosting two community events in early June: our Annual General Meeting (AGM) will be Monday evening June 11th, 7pm at the Crawford Bay Hall. At the AGM, members can be informed about the activities of the last year, and most importantly, have an opportunity to join the ESIS board as a director. Three current ESIS directors are stepping down this year, and we are looking forward to a year of positive changes and new project planning, which will need some new energy!
With that in mind, ESIS is hosting a Town Hall presentation on Wed. June 6th, 6pm – 8pm at the Crawford Bay School. The presentation is about the future of internet for our communities, and will feature guest speakers from Kaslo's infoNet Society who will share their experience developing a community-based high-speed fiber optic network, and why it's so important for communities like ours to be able to develop and thrive in this way. If you're interested in being a part of building the future, or just want to know what's happening,  we strongly encourage you to come to the Town Hall and AGM.
See you then and have a great Summer!
Warmly, the ESIS board and staff.